Monitoring and control of Power Substation (Greece) - Power Systems Protection
| | |
| --- | --- |
| Project: | PYLOS SS (DIVISION II) |
| Hardware: | 1xPC (Windows OS 7, OPC) |
| Control stations: | 1xSEL451, 1xSEL787, 1xSEL751 and 4xSEL751A |
| Implementation: | PSP, Site http://www.psp.com.gr |
| Date of commission: | 2013 |
1. Introduction
The digital control system of Pylos SS has been designed by PSP (Power Systems Protection) to cover all the operational requirements of the particular Power Substation. With this SCADA system the operator of the Power Substation has the ability to monitor the operation at any time, to refer to historical data and perform operations on the CBs and the rest equipment of the installation.
2. Visualization
The SCADA system offers the operator a variety of panels in order to supervise the whole installation in detail. Specifically there are the following panels:
General view of the Power Substation / 150kV Detail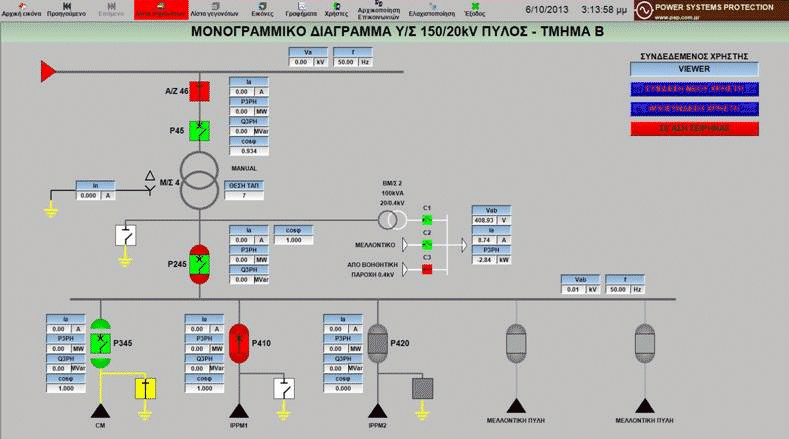 20kV Detail / Power Transformer Detail
110VDC Distribution Detail / 400VAC Distribution Detail
Relays Communication Detail
In these panels the operator is aware of the equipment's status and the electrical measurements of every part of the circuit (P, Q, I, V, f & cosφ). Moreover, via the trend viewer the operator has the opportunity to check historical data from these measurements.
3. Control
Finally, the SCADA system offer the ability of controlling the equipment. The installation consists of one 150kV CB, one 150/20kV Power Transformer with OLTC and 6 20kV CBs. Via the SCADA system the operator can control the OLTC's position, reset the Lockout Relays of the installation and open or close the CBs always respecting the safety interlocks which are automatically checked by the SCADA system and allow or forbid the each control that is going to be performed. If a control is forbidden, then there is always a message explaining which interlock is active in order to inform the operator for the actions that he must do before the specific control.
See also: