Object
PmgWTable
(Table)
Description: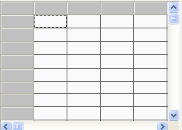 See:
PmgWTable - Deatiled object description
This object serves for viewing and also for editing any data in the form of table.
This object adopts properties and methods of object
PmgObject
.
Properties and methods:
Methods for
Cell

setup of the table:
Configuration windows:
Object
General information about the object
Content
Content of the

Pmg

object in the XML form
Position
Setting the position, width and height of the

Pmg

object
Variables
List and configuration of user defined

Pmg

object variables
Events
Algorithms definition for the object events
Methods
Definition of of designer's method of the

Pmg

object
Table
Basic parameters of the table
Columns
Settings of table rows properties
Cells
Settings of table cell properties
---
History:
Pm9.00.00
: Object name changed:
PmiAx-PmTable
->
PmgWTable
Pm8.03.23
:
Fixed bug
: in
Web panels
: In
Firefox
it was not possible to set the column width to 0.
Pm8.03.22
:
Fixed bug
: in
Web panels
:
- It is possible to enter now more than one fixed row or column.
- Sometimes the scrollbar was visible while not needed.