Please book your training in advance. The training dates are announced dynamically based on the number of registered applicants and training room capacity. All types of trainings can be organized locally in Ostrava (in MICROSYS domicile, Czechia), or remotely (online) by using the
TeamViewer software
.
Registration form for PROMOTIC training
After receiving Your registration, You will be
contacted
and the detailed trainig
arrangements
will be settled (date, venue, etc.).
For deatiled information regarding trainigs and seminars contact:
See:
PROMOTIC Trainings
.
PmTrainingFull - Full basic training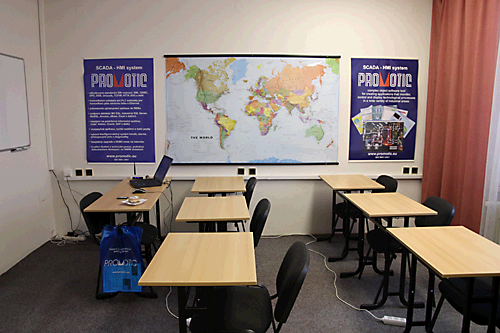 Training is meant for:
- All new users of the PROMOTIC system.
- All who are interested in the PROMOTIC system.
- All experts working in the automation process control.
What the participant can get:
- Complete information about the PROMOTIC system, its using and method of designing the applications.
- Detailed knowledge about the PROMOTIC system that cannot be found out by self-study or during proceeding.
- Outline about the integration of the PROMOTIC system with other SW systems (databases, the Internet, communication servers, etc.).
Organizational information:
- The training is based on lectures. The classroom is not equipped with PCs - the participants may use own notebooks (minimal requirements:
Windows OS 7
and higher).
- The duration of the training is 3 days, the scheduled lessons take aproximately 8 hours/day.
- The price of the training - see the trade item
PmTrainingFull
, if more participants are coming from one company it is possible to arrange discounts. The price of the training doesn't include boarding and accommodation.
Content tranining:
PROMOTIC full basic training curriculum